Getting parents' approval in a relationship is a very significant aspect of Chinese culture. Chinese people place very great emphasis on parental influence, much more than Western people do. In particular, Chinese women under 30 are more likely to have an issue with family approval. Older women are generally more independent and less likely to be influenced by their parents' decisions. So what do you need to do to leave a good impression and win the approval of your lady's parents? Here are some useful tips and advice from Chnlove.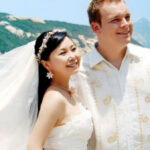 Chnlove Asia Dating Tips: Try to learn more about the parents and Chinese culture
Firstly, you have to find out as much as possible about the parents before meeting them. Are they living in the country or city? Are they modern Chinese or traditional? Ask your lady everything you need to know, and make your plans accordingly. The Chinese are generally very hospitable and friendly, and they would highly appreciate it if you have some knowledge about Chinese culture and custom. You should try to learn enough Chinese to be able to speak to them a little at least, and try to eat with chopsticks as soon as possible!
Bring them a gift in the first meeting
When you finally get to meet the parents face to face, you should bring a gift with you, something to show them that you are happy to meet them and get to know them. It is always a good idea to get something that symbolizes the area where you're from, something that they wouldn't be able to buy in China. That way they can have at least some idea of where their daughter may be going in the future. For example, you may bring a bottle of wine native to your country or a carton of cigarettes for her father if he drinks or smokes, and flowers, fruits or handicrafts for the mother. If you don't have anything in mind, ask your lady for some hints or suggestions, because she probably knows exactly what's right and appropriate for her parents.
Show them your respect and sincerity
Put yourself in their shoes and try to understand that their daughter met a guy on the other side of the world, and naturally they would be rather concerned. So basically, try to ingratiate yourself to the parents, and you won't regret it. Go to them humbly, and pour your heart out to them, showing them you sincerely do love their daughter. All I believe they are doing, is looking for security and good future for their daughter as any good parent should. You should uderstand and go with that, if you really love the girl. Try and earn their trust. If unfortunately the parents do not approve of you, don't give up hope just yet . Be a Man and fight for your lady. Do whatever it takes to make the parents believe in you and make them happy about their daughter's choice .