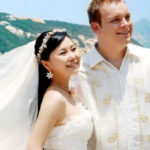 After signing up in Chnlove Club, gentleman members often receive a lot of admirer letters from ladies. Some gentlemen are a bit skeptical as many of these admirer letters are very forward with comments such as: "I really think you are the one". As it is typically not what Westerners would say to someone during the first email correspondence, they are concerned about whether these letters are genuine. To ease such doubts, there are a few things you need to know about the admirer letters.
How are the admirer letters generated in Chnlove Club?
As a matter of fact, Chinese women are generally more traditional and conservative than Western women. So why are these ladies on Chnlove so open in expressing their love in the admirer letters? To answer this question, you need to know how the admirer letters are generated. In general, the ladies will give some criteria, e.g. age, country, height, education, to the translators, and the translators will use these criteria to search match profiles, then send out the admirer letters. It is common practice for the ladies to tell the translators what they want to say, and the translators write the admirer letter and dress it up a little bit with some sweet words. They are just trying to spark your interest! If the translator can generate interest from both you and the lady, then you'll communicate. After a few letters, the strong emotional stuff won't be as prevalent.
How should I choose from these admirers?
It is very flattering, impressive, and even overwhelming to see a large number of admirer letters arriving in your mailbox, but you need to use a lot of discernment to find the right girl for you. If you are not interested in one of your admirers, you can choose one of the reasons listed for rejection. In fact, you can just ignore the letters. Everyone has the right to choose, and I believe the ladies will understand and respect your decision.
It is true that the initial admirer letters are generic, but once you reply, it is real! You can select a few ladies from your admirers, and start writting letters with real life stories and real questions, and cut through the romantic fluff. It is best to use the EMF service at least for the first couple of months till you and the lady do get to know each other.The translators do clear up a lot of mistakes and make it a lot easier to cummunicate with the lady.
It is advisable to write long sincere letters, be considerate and reply very quickly. Ask the ladies serious questions like: Where do you see yourself in 5 years and in what county? Are you really open minded towards starting a new life away from your friends and family? Their answers can be quite revealing. You will find out who is genuine and who has not thought things through properly! If things seem fake or too much love too soon from her– Bail out! Remember that there are 1,0000's of ladies on Chnlove. There are plenty of fish in the sea!