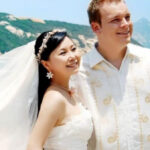 Compared with their counterparts overseas, Chinese women seem to have a bigger say in how the family money is spent. One investigation shows that about 77% Chinese women control the finances of their family after get married, which ranges from stocking up on household items to having the final say on home and car purchases and health care.
The answer of this question will be extremely miscellaneous. "Men too easily waste money when they have enough money in pocket.'' "Men easily get worse when they have money." The deep-seated reason is probably holding the purse strings in the family to make women feel secure. Women worry they will be out of favor of their husbands after having kids or losing color. Although holding the purse strings not means holding the man's heart, most of women believe this is a promise from their men.
What're the advantages of Chinese woman in charge of household financing?
Some American men declare that they won't let their American wives manage the money. Because their rent or mortgage will not be paid, the electricity and water will be turned off since the bills will never be paid. BUT their wives will have more shoes, dresses, purses and ear rings than they will ever wear or use. But if Chinese women marrying American men, they will manage money very well and spend money according to the family income. Although in some rich family, woman will also spend some money in nice dress, shoes, make up, but daily family expenses is prior to anything else.
On the other hand, Chinese wife control of the family finance is likely to give rise to households' savings, as the savings in the bank will also give them a feeling of security. Chinese women never make decisions or investment blindly, as they become more highly educated, their investment and financial capabilities improve. Also they will ask for advices from their husbands on some important issues, such as the Children's education, buying or renovating their homes, and the family's investments or loans.
Nowadays, Chinese women feel very satisfied with their position in the family and handle all the daily expenses. And most of Chinese man also agree wife to manage money for them. But if the wife is too tough in controlling money, the men will hide some private saving called "Unit-owned Exchequer" .This becomes an interesting social phenomenon now. Are you ready to find a Chinese wife to run your family finances now?